NEW PAROS AIRPORT | GUIDE TO NEW PAROS AIRPORT (PAS)
Origin
Airline
Flight no.
Scheduled
Est./Actual
Status
No flight arrivals were found at New Paros Airport.
Destination
Airline
Flight no.
Scheduled
Est./Actual
Status
No flight departures were found at New Paros Airport.
Car Hire at New Paros Airport
UNBEATABLE VALUE CAR RENTAL
Free Amendments | Free Cancellations | No Card Fees




New Paros Airport - All Information on New Paros Airport (PAS) New Paros Airport
84400 Αliki, Paros, Greece
phone +30 22840- 90510
phone+30 22840- 90510 (Lost + Found)
emaild5ith_kapa@hcaa.gr
emaild5ith_kapa@hasp.gov.gr (Lost+Found)
call_endN/A (fax)
Facts and History about New Paros Airport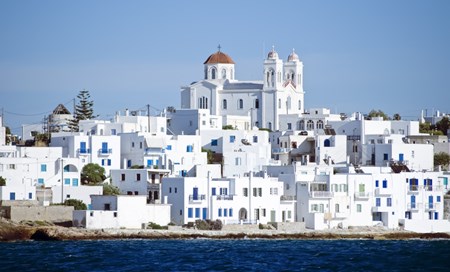 New Paros Airport serves the Greek island of Paros in the Cyclades islands (IATA: PAS, ICAO: LGPA). On July 25, 2016, it replaced the Old Paros National Airport. About 10 kilometers (6.2 miles) from the port of Parikia, the airport has situated southwest of the island.
It was founded in 1982, but in 2016 its location was changed to one nearby. Although there have been efforts to make it an international airport with flights from other countries, it still only operates flights from Athens. Its passenger terminal is 1.400 meters long, and its public amenities and office space total 600 square meters.
This airport also offers facilities, services, and amenities related to air travel, including a restaurant, maintenance, repair services for aircraft, and car rental services. Europe/Athens is the standard time zone at Paros Airport.
Arrivals, Departures and Airlines at New Paros Airport
Transfer Services at New Paros Airport
Some public transportation options are available at the New Paros Airport to get to the center of Paros. The Parikia-Punta provincial road leads to the city of Paros. The trip typically takes 20 minutes to complete by car.
Another means of public transportation are taxis. Always call a cab from the designated taxi rank outside the terminal rather than from taxi drivers offering their services from different locations. A cab driver can be scheduled in advance to be there when you arrive.
There are many ways to get around the airport, including bus lines and car rentals. Renting a car at New Paros Airport is an excellent idea because these airport-approved rental companies offer the best rates. Bus lines are also available to transport travelers from the airport to Parikia and Pounta port, which typically takes only 15 minutes.
Use only their official phone numbers or email addresses to contact them if you need to make a reservation or find out more.
Make a plan at New Paros Airport and consider your travel options.
Rental Car Service at New Paros Airport
Renting a car is strongly advised to conveniently explore them all. There are two car rental desks on the airport grounds. Before your flight, you can search online for the most recent offers with the best prices and service reviews thanks to the best local car rental agencies.
You can book using the airport's official telephone number and website. Additionally, suppose you want a quote or are looking for a special offer. In that case, it is recommended to book before your flight. Vehicles can be ordered in advance or reserved right away at the airport's rental car desks.
See and compare all rental car companies at New Paros Airport.
Taxis at New Paros Airport
A taxi stand is located directly outside the terminal's arrivals area. The airport offers a list of dependable and recognized taxi companies from which you can select.
You can take a taxi from the rank outside the exit gate to get to any location on the island of Paros starting from the airport. Remember, though, there are only so many taxis available. It is strongly advised to reserve a transfer service in advance and board a taxi, minibus, or private VIP vehicle right away to be safe.
Always hail a cab from the terminal's designated taxi rank to avoid dealing with taxi drivers who offer services from other locations. It is strongly advised to reserve a transfer service in advance and board your taxi right away to be safe. See more information about taxis at New Paros Airport.
By calling one of the following numbers instead: +30 694 413 8995, +30 694 422 1645, or +30 694 454 0556, you can schedule a pickup with a local driver.
Trains at New Paros Airport
Because the area is an island, a relatively small train station is close to the airport. Ferries and ports are available as modes of transportation, though. More information about train services near New Paros Airport.
Buses at New Paros Airport
The bus replaces a taxi as one of the main modes of transportation on Paros.
Public bus routes of PAROS K.T.E.L. S.A. provide convenient connections from the airport to various island locations. The airport serves as the terminal for two courses. One departs from Parikia (the island of Paros' capital) and the other from Pounda. Buses heading to Parikia leave the airport at the same time. In the summer, buses typically leave the airport every 30 minutes.
Direct ticket sales are available at the airports in Parikia and Naoussa. However, several small shops and kiosks with corresponding signs also sell bus tickets. In addition to Antiparos, these stores can be found in Parikia, Naoussa, Lefkes, Marpissa, Alyki, Pounda, Piso Livadi, Prodromos, Marmara, Drios, and Voutakos.
The central bus station is conveniently situated in Parikia, close to the port. More information about buses to and from New Paros Airport.
All buses advertise and provide free luggage space. It is best to inform the driver where you're going in advance to ensure the driver stops there.
Hotel Shuttle Services at New Paros Airport
Many hotels in Paros offer shuttle services to/from the airport to their patrons. If the service is provided, check with your lodging before you arrive to confirm and let them know when you'll be there.
Visit the hotel's website to see if this service is available.
Rideshares​ at New Paros Airport
PAS has no rideshare stands at the airport at the time of writing. For more information on this, try contacting the airport's customer service.
Parking Services at New Paros Airport
You can get the best care at the New Paros Airport parking lot for the lowest possible price. It provides short-term, long-term, and accessible parking in front of the terminal. It takes just two minutes to get to the airport, which is conveniently close to the parking lot.
You can access 70 parking spaces, but only a few spots are available. Call customer service before your flight or arrive at the airport earlier than necessary to guarantee a place.
See more information about short and long term parking at New Paros Airport.
Other Services at New Paros Airport
No matter how basic or complex a customer's needs may be, the New Paros Airport offers satisfying services. In addition to other crucial information about the entire range of services provided at the airport, everything you need is listed in this section, including the most recent 24-hour dining options, WiFi, the closest hotels, a currency exchange counter, and everything else you require. The airport also has self-service kiosks for check-in and baggage drop-off.
Disabled Passengers at New Paros Airport
People with reduced mobility (PRM) and the disabled are provided with services by PAS to make their stay before and after flying easier.
Whether it is an arriving, departing, or transit flight, the airport service includes greeting disabled passengers at the airport entrance and transferring them by wheelchair to the aircraft and vice versa. It also includes guiding them through all airport procedures, including check-in, security, ticket counters, baggage claim, etc.
From the time disabled traveller arrives at the airport door until they board the plane, airport-guided assistance includes assisting them with their airport procedures. To use this unique service, kindly notify your airline in advance.
WiFi at New Paros Airport
There needs to be more information to confirm whether internet access is offered at the airport as of this update. Ask at the airport's information counter.
Baggage Claim at New Paros Airport
The baggage claim area is on the first floor of the terminal. Because there are so many baggage claim belts, your bags will typically arrive quickly. If your luggage is lost, meet the handling agents who deal with luggage-related incidents on behalf of the airlines.
If you did not pick up your luggage when you arrived, you must notify your airline so they can help you locate it.
Information Desk at New Paros Airport
The PAS Information Desk is located on the building's first floor. This counter offers all the information you require about the airport, flights, top resorts on the island, hotels, and activities to partake in, which is perfect for planning your unforgettable trip.
For inquiries and grievances, you can use the online form or dial + 30 22840- 90510.
Smoking at New Paros Airport
Only specific locations outside the terminals and the airport's restrooms allow smoking. Smoking is not permitted anywhere on the New Paros Airport property.
Lost and Found Section at New Paros Airport
These are your two options if you've misplaced something at Paros Airport. The airport can be contacted first. You must first contact the airport to learn more about the lost-and-found process. The airport staff will be able to help you find your missing item.
You could also inquire with the airlines. You can also contact the airlines that fly into Paros Airport if you need to find something in the terminal or on a flight.
Restrooms at New Paros Airport
Every floor of PAS has restrooms, some accessible to people with disabilities.
Nursing Stations at New Paros Airport
The designated nursing station at the New Paros Airport is not explicitly mentioned anywhere. Alternatively, you can use the restroom, which has a unique amenity for mothers with young children.
A.T.M.s at New Paros Airport
If you need to make a cash withdrawal, there are ATMs on the first and ground floors of the New Paros Airport. Near the airport, Alpha Bank is a business with an ATM at Aliki 844 00, Greece.
Currency Exchange at New Paros Airport
There are no currency exchange counters at New Paros Airport. However, the closest exchange facility is Western Union - PayLink, located in Paros, Greece, at 844 00.
Food and Beverages at New Paros Airport
The airport bar is accessible to travelers at New Paros Airport. You are welcome to go there and unwind while you wait for your flight. Call this number at +30 22840-90509 for more information about its amenities.
Shopping at New Paros Airport
Visitors can browse some New Paros Airport shops selling goods and treats. You might think it needs to be completed, but you can still choose from the goods there as gifts for your loved ones or necessities for your trip.
Pet Relief at New Paros Airport
You must meet a few requirements at the airport before you can bring your pet to Greece. All animals entering Greece must be microchipped. Pet travelers also need proof that their animals were vaccinated against rabies at least 21 days before their trip. At least 30 days after vaccination, a Panhellenic Veterinary Association-authorized member must conduct blood testing to confirm the presence of rabies antibodies.
Passengers traveling with pets must abide by all applicable airline rules. Please visit your preferred airline's website for more information on each airline's requirements.
Ticketing Services at New Paros Airport
At the New Paros Airport, there are a lot of domestic and international airlines with ticket booths on the ground floor, including Delta, United, Southwest, and Elegant.
The check-in desks are close to these counters. Tickets for all flights to and from the New Paros Airport can be purchased with its help.
Although the hours vary depending on the airline, it is open daily. Check the most recent information with the Paros Airport or online flight booking options.
History of New Paros Airport
A few kilometers to the south, the former Paros airport had been in use since 1982. Although its 710-meter runway was adequate for the time, as the number of passengers increased, it became necessary to use larger aircraft. Paros airport was different from the Greek airports that these planes could serve. The runway was short, so that was the cause.
Finally, it was decided that the island needed a new airport. The old airport's operations were transferred to the new airport when it opened in 2016. Larger aircraft can use its 1,400-meter runway, which is more comprehensive. The first company to regularly fly a medium-sized jet to Paros since June 8, 2018, is Smartwings, a Czech charter airline. Due to a lack of fuel at Paros, the flight is operated with a fuel stop at Santorini Airport on the return leg.
The infrastructure work for the new airport and the first phase of the terminal's construction were funded by Olympic Air, an Aegean Airlines subsidiary. On November 11, 2020, it was revealed that more than €43 M in funding was secured to complete the airport and provide services to foreign locations. The construction includes a new 12,000 m2 terminal, a 1799 m runway extension, a control tower, and other facilities. Beginning in June 2021, construction should be finished by the end of 2023.
About Paros, Greece
Greek island Paros is located in the middle of the Aegean Sea. Numerous uninhabited offshore islets are part of the Municipality of Paros, and the Municipality of Antiparos is its closest neighbor. On the island was the ancient Greek city-state of Paros.
"Parian" was coined to describe marble or china of comparable qualities because Paros was once well-known for its fine white marble. However, Paros is primarily known as a well-liked tourist destination. Abandoned marble quarries and mines can be sighted on the island.
On the east coast of Paros, Golden Beach near Drios, and beaches in Pounda, Logaras, Piso Livadi, Naousa Bay, Parikia, and Agia Irini, are among the island's many beaches. The strait between Paros and Naxos is a popular windsurfing location because of the consistently strong winds that blow there.
Weather in Paros, Greece
The weather in Paros is typically Mediterranean, with hot, dry summers and mild winters. The best time to visit Paros if you're looking for the sun is between June and September. July is the hottest month at Paros, with an average daily high temperature of 29 C and an average low temperature of 23 C.
With an average daily high temperature of 14 C and an average low temperature of 9 C, January is the cold month of the year. August is the driest month, with 31 days of perfect sunshine and 0 mm of precipitation. January is the wettest month, with 30 mm of rain falling over 4 days. From June to October, sea temperatures should be at least 23 C, allowing you to enjoy the beach.
Useful Contact Details
Paros is always worth visiting when exploring the Greek islands because it brings something unique to a region rich in fascinating history. Consider that you have a trip to Paros scheduled. It is a beautiful place to explore because of its lovely beaches and various outdoor activities. To ensure their itinerary considers all the major attractions, you should do more research on the region.
For those who have never visited Paros, here are some recommendations regarding its fascinating natural resources and cultural celebrations:
Do your own research on the area to ensure you are familiar with the city's landmarks before visiting. Every location has unique characteristics and fascinating features of its own. You can accomplish more there if you are more familiar with the city before your visit.
Getting around the island can be done in one of three ways: by bus, rental car, motorcycle, or ATV. You can go wherever you want and even request better destinations when you have a private driver that you have hired. When traveling alone or with a significant other, it is less expensive to use public transportation, like a taxi or bus. You will furthermore have the chance to explore more about the city in this manner.
Greece National Emergency Phone: 112
It is best to be prepared for the worst while visiting Paros City by being aware of emergency medical and law enforcement services locations. To ensure your security and the security of those around you, take the following actions:
Start by looking for a secure area away from potential danger. Alternately, maintain composure and exercise your fear-management techniques.
Next, call a regional or global emergency hotline (112).
Exercise caution while providing as much information as possible regarding your location and the problem.
Finally, adhere to any guidance provided by medical or law enforcement authorities.
Hospitals
Telephone: +30 2284 024410
Address: Dimitris Alipranti, Paros 844 00, Greece
Telephone: +30 2284 360000
Address: Λιμάνι Παροικιάς, Paros 844 00, Greece
Police Station
Paros Police Station (Paroikia)
Address: Paros 844 00, Greece
Phone: +30 22840 23333
New Paros Airport Contacts
Address: 84400 Αliki, Paros, Greece
General Phone: +30 22840- 90510
Email: d5ith_kapa@hasp.gov.gr
Lost and Found Phone: +30 22840- 90510
Information Desk Phone: +30 22840- 90510
Official website: http://www.ypa.gr/en/our-airports/kratikos-aerolimenas-paroy-kapa
Local Information
Drive on: Right
Electricity: 230 V
Plug: C and F
Currency: Euro, €, EUR
WiFi at the Airport: No information specified.
Services at New Paros Airport
Useful Information about New Paros Airport