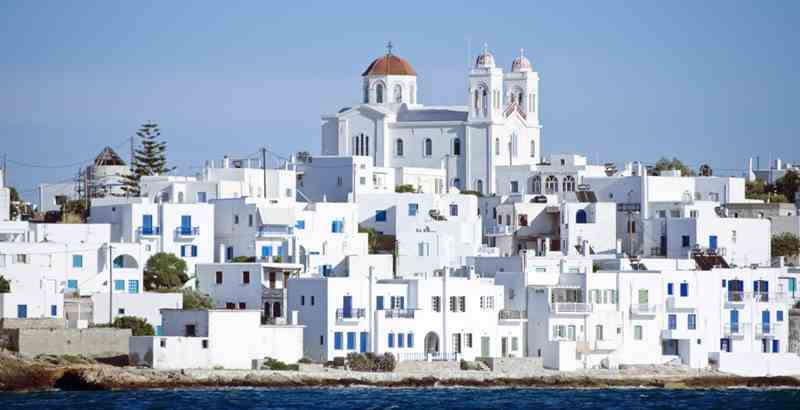 Paros Tourist Attractions
New Paros Airport provides travelers with aircraft-related services. Many airlines travel there, including Elegant, Southwest, Delta, and United. Each airline's ticket counters on the airport's ground floor provide various assistance related to purchasing airline tickets for all flights and complaints regarding travel reservations.
The Paros city core is adjacent to the airport. There are many ways to get there, including a cab, a bus, a rental car, and a motorcycle.
Paros, a Greek island, is in the center of the Aegean Sea. The Municipality of Paros includes numerous uninhabited offshore islets, and the Municipality of Antiparos is its closest neighbor. Golden Beach in Drios, beaches in Pounda, Logaras, Piso Livadi, Naousa Bay, Parikia, and Agia Irini are just a few of the beaches on the east coast of Paros.
The best time of year to visit the city for hot weather and outdoor tourist activities is June through September. You can travel alone or in a group to experience one-of-a-kind water trips and adventures in Paros and its surroundings.
Consider traveling to Paros if you haven't already. Visit the website getyourguide.com for additional details on the tours offered in the city and its neighboring towns.
Paros: Full-Day Sailing Yacht Cruise
You can spend a day sailing from Paros to the lovely neighboring Cyclades Islands, discover undiscovered beaches, learn sailing skills, and meet new people. During this tour, you may swim, snorkel, and sunbathe while enjoying local cuisine and Greek wine.
The Aegean Sea's crystal-clear waters are perfect for snorkeling and swimming on stunning secluded beaches. On the deck of a contemporary yacht, you may sunbathe while learning the fundamentals of sailing. Experience freshly prepared local cuisine the crew prepares while admiring some of the most stunning Little Cycladic Islands.
Go there and board a sailing vessel for your unforgettable full-day trip from Piso Livadi Port. The yacht departs from Paros every morning and takes passengers on a full-day sailing tour of the Little Cyclades Islands.
Depending on the weather, the skipper will sail towards the island of Iraklia. You will halt in a remote bay to swim around a World War II plane wreck. The following stop is either Koufonisia or Schinoussa. The crew will give you lunch after swimming in the turquoise-colored seas.
Take a little swim off the coast of Naxos Island later in the day. The captain will head westward toward the protected coastlines of Antiparos and Despotiko if the winds are strong. These are undiscovered treasures that are begging to be discovered. Depending on the weather, you'll return to Paros around 7:00 or 7:30 pm, depending on the weather.
A sailing yacht for nine hours, a skipper and crew, a light lunch, snacks, fresh fruit, wine or beer, water, snorkeling gear, and port fees are all included in the tour.
Please remember to pack your passport or ID card, sunglasses, a hat to protect you from the sun's rays, a towel, and sunscreen. Be aware that owing to port restrictions, you must submit the ID or passport number, full name, age, and nationality of every traveler in your group when booking. Your reservation will be canceled unless this information is provided. Please be advised that depending on the weather, trips may need to be postponed, rescheduled, or taken in a different order. It takes 20 to 30 minutes from the main Paros resorts to get to the meeting place by vehicle or taxi.
Regrettably, it is inappropriate for animals and persons with mobility issues.
Santorini Full-Day Boat Trip From Paros
On this tour, you will learn more about the magnificent island of Santorini, including its untamed beauty and breathtaking caldera views. Discover the most well-known settlements on the island, Oia and Fira.
It takes a whole day to go by boat to the magnificent island of Santorini. On the volcanic island, enjoy a fun guided bus tour and explore the lovely villages of Oia and Fira.
Before you see the volcano and the beautiful caldera cliffs rising before you for the first time, plan on leaving the port at Piso Livadi and sailing over the azure Aegean Sea. Your bus tour will start when you get to Athinios Port.
The vibrant village of Oia, which hangs on the caldera's slopes, is the first stop. You will have time to stroll along its paved streets, take beautiful pictures of its architecture, and admire it. The island's capital, Fira, is the next stop. In your free time, you can take the cable car to take in the breathtaking views, stroll down Gold Street, or visit a museum. Or, pick one of the many eateries or cafés and unwind while sipping a glass of the renowned Santorini wines. You will be transported back to Athinios Port in the late afternoon to catch the boat that will take you back to Paros.
The tour covers round-trip transportation from several Paros areas to the port, round-trip passage on a boat to Santorini, round-trip passage on a bus to Santorini, a tour guide, and personal expenditures. Please remember to bring a sun hat, sunglasses, and comfortable shoes. Be aware that pets are not permitted.
Before your trip, be aware that you will receive an email with detailed pick-up information after making your reservation. 30 to 60 minutes before boat departure, pick-up begins. If you are staying in Piso Livadi, please arrive at the pier twenty minutes before the boat goes. On Santorini, assistance is only provided during the bus tour rather than during the boat cruise.
Paros: Traditional Gulet Shared or Private Island Cruise
With a communal or private boat trip around Paros' stunning coastline in a traditional gullet, you can discover Antiparos, Despotiko, and Panteronisi while soaking up the sun or going underwater.
You will travel with this tour aboard a stunning Turkish gulet that is 19 meters long and 5.5 meters wide. To provide you with a comfortable sailing experience, it loads up to 25 people. You will undoubtedly enjoy Despotiko, the east coast of Paros, and the pirate cave, learn about Antiparos, dive in the blue lagoon, and view Kampana and his church. Enjoy yourself while you eat and drink Greek delicacies and meet new people.
Galatea is a magnificent Turkish gulet with exquisite shapes and roomy inside and exterior living areas. In addition to the sunbathing mats on the deckhouse, Galatea features a sizable seating area in the stern and a vast sunbathing area at the bow. The boat underwent an intensive and significant renovation in 2021. As a result, it complies with all EC directives regarding safety during navigation and pauses.
Boarding up to 25 people to provide the most extraordinary navigating experience possible. Galatea leaves at 10 from the port of Piso Livadi with stops: - pirate cave near Tripiti beach - sea cave in Antiparos - Sostis beach in Antiparos - Livadi beach in Despotiko - Panteronisi (blue lagoon) - Kampana island Return at 6 pm (customized routes to be agreed with the crew) The price for a day rental includes fuel, food, and drinks.
Food, gratuities, snorkeling gear, crew, and gas are all included in the trip. For your expense, they can arrange pick-up and drop-off from your accommodation; in the absence of that, you can get to Piso Livadi seaport by bus, taxi, or on foot if you're close to the port. Prosecco, champagne, and mixed drinks cost extra.
Bring only a towel and swimsuit for the entire vacation.
From Paros: Iraklia and Schinoussa Sailing Cruise with Lunch
Take a full-day trip from Paros to the adjacent islands of Schinoussa and Iraklia. Enjoy delectable Greek cuisine made for you on board while you swim and snorkel in the Aegean Sea.
Sailing in the Aegean Sea's clear waters is one of the trip's highlights. On isolated beaches, you can swim, snorkel, and relax while enjoying the local cuisine and wine prepared for you on board. You can select a shared or exclusive tour.
Leaving Paros Island, feel the excitement of sailing on a large boat. With a seasoned captain, explore the Aegean Sea and the adjacent islands of Schinoussa and Iraklia. Get the opportunity to swim and snorkel in pristine waters before indulging in a sumptuous lunch.
Leave from the port of Piso Livadi on the island of Paros' eastern shore. Set off towards Iraklia's first stop after a quick safety briefing. Arrive at the isolated beach of Alimia, where you may swim in the pristine water, go snorkeling, and investigate the World War II hydroplane that has sunk there.
You will proceed to the tranquil island of Schinoussa. Plunge into the glistening water and give in to this remote location's peace and tranquility. Have a mouthwatering, freshly prepared lunch on board while enjoying the tranquil, soothing ambiance.
Make a pit stop on Naxos' southern side for dessert and fruit on the way back. Return to Piso Livadi by sailing after one final swim.
Be aware that the itinerary depends on the weather; therefore, the skipper may alter it for your safety. Bring sunscreen, a towel, sunglasses, and a sun hat.
Regrettably, those with mobility limitations, pregnant mothers, and children under 2 years old are not recommended.
UNBEATABLE VALUE CAR RENTAL

FREE
Amendments,
FREE
Cancellations,
NO
card fees!

airport_shuttle Need Airport Transfers?
Useful Information about New Paros Airport