New Paros Airport Flight Departures (PAS)
Not all flights may be showing. If not available use search above to find your flight by airline, airport or flight number.
Destination
Airline
Flight no.
Scheduled
Est./Actual
Status
No flight departures were found at New Paros Airport.
Flight Departures at New Paros Airport
As you enter New Paros Airport, kindly ensure you have valid identification. It must be displayed during check-in, border security, and aircraft boarding.
Before you leave, make sure you have the required papers. Your passport, visa, and identification card are the three most crucial documents to travel through PAS. Your child needs a current ID card or air travel access.
Be bold and ask the airline you'll be flying with for more information about the departure requirements. It is also wise to review the country's customs laws before leaving. The main check-in area of the passenger terminal is where the customs office is situated.
Arriving at New Paros Airport at least two hours before your flight would be helpful because security checks, luggage check-in, and check-in can take some time. For group travelers, get there three hours early to ensure a quick check-in.
Depending on the policies established by each airline, check-in begins between one and two hours before departure. The screening counters throughout each terminal display information about the check-in counters for a specific flight.
If you have any questions about your travel documents, contact the New Paros Airport Information desk at + 30 22840- 90510.
Rental Car Service at New Paros Airport
Within the confines of the airport, there are two car rental desks. Before your flight, you can search online for the most recent offers with the best prices and service reviews thanks to the best nearby car rental agencies.
Renting a car is strongly advised to conveniently explore Paros and other neighboring places on the island. You can make reservations using the airport's official phone number and website. Additionally, suppose you want a quote or are looking for a special offer. In that case, it is advisable to book before your flight.
See all rental car companies at New Paros Airport.
Taxis at New Paros Airport
There is a taxi stand right outside the arrivals area of the terminal. The airport offers a list of reliable and authorized taxi companies from which you can select.
However, keep in mind that there are only so many taxis available. It is strongly advised to reserve a transfer service in advance and board your taxi, minibus, or private VIP vehicle right away to be safe. Always call a cab from the terminal's designated taxi rank to avoid dealing with taxi drivers who offer services from other locations. It is strongly advised to reserve a transfer service in advance and board a taxi right away to be safe.
Call one of the following numbers to schedule a pickup instead: +30 694 413 8995, +30 694 422 1645, or +30 694 454 0556.
More information about taxis at New Paros Airport.
Trains at New Paros Airport
The airport is on an island, so a fascinating train station isn't nearby. Ports and ferries are available as modes of transportation, though. Additional information about train services near New Paros Airport.
Buses at New Paros Airport
The bus turns into one of the main modes of transportation on Paros, along with a taxi. Public bus routes of PAROS K.T.E.L. S.A. provide convenient access from the airport to various island locations. Typically, buses leave the airport every 30 minutes during the summer.
The airport serves as the terminal for two routes; one departs from Pounda and the other from Parikia (the island of Paros' capital). At the same time, buses leaving the airport travel to Parikia. In Parikia, the central bus station is conveniently close to the port. Further information about buses to and from New Paros Airport.
Every bus boasts and provides free luggage space. It is best to let the driver know where you're going in advance to ensure that he will make the stop.
Hotel Shuttle Services at New Paros Airport
Numerous hotels in Paros offer shuttle services to/from the airport for their patrons. If the service is provided, check with your lodging before you arrive to confirm and let them know when you'll be there.
Rideshares​ at New Paros Airport
As of this writing, there are no rideshare stands at the airport. You might try contacting the airport's customer service for more information.
Parking Services at New Paros Airport
You can get the best care at the New Paros Airport parking lot for the lowest possible price. It takes just two minutes to get to the terminal, which is conveniently close to the parking lot. You can access 70 parking spaces, but only a few spots are available. Call customer service before your flight or arrive at the airport earlier than necessary to guarantee a place.
You can also choose an off-site parking facility near the airport if there is no space available at the on-site parking service of New Paros Airport.
See more information about long and short-term parking at New Paros Airport.
Other Services at New Paros Airport
The New Paros Airport is dedicated to offering services that satisfy all of its client's requirements, regardless of how straightforward or complex they may be. This section includes all the essential information about the full range of services offered at the airport, including the most recent 24-hour dining options, WiFi, the closest hotels, a currency exchange counter, and everything else you need. The airport also has self-service kiosks for baggage drop-off and check-in.
Disabled Passengers at New Paros Airport
PAS provides a service for the disabled, and PRM makes your stay before and after flying easier. The airport's service includes assisting passengers with disabilities with check-in, security, ticket counters, baggage claim, and other airport processes, whether traveling on an incoming, departing, or transit flight.
WiFi at New Paros Airport
The availability of internet access at the airport is still being determined as of this update. You could inquire at the airport's information desk.
Baggage Claim at New Paros Airport
In the terminal, the baggage claim area is located on the first floor. Since there are so many belts for baggage claim, your bags will usually arrive quickly. If your luggage goes missing, go meet the handling agents who deal with luggage problems on behalf of the airlines. If you didn't get your luggage when you arrived, you must inform your airline so they can help you find it.
Information Desk at New Paros Airport
The building's PAS Information Desk is located on the first floor. You can get all the necessary information at this desk to help you plan your memorable trip. Call the customer service line at + 30 22840- 90510 or submit an online form with your inquiries or grievances.
Smoking at New Paros Airport
Only specific areas outside the terminals and the airport's restrooms are designated for smoking. The airport's grounds at New Paros are entirely smoke-free.
Lost and Found Section at New Paros Airport
Try these two methods if you've misplaced something at Paros Airport. You can get in touch with the airport first. The airport staff will be able to help you find your lost item. Calling the airline is another choice. You can also contact the airlines that fly into Paros Airport if you need to find something in the terminal or on a flight.
Restrooms at New Paros Airport
PAS has restrooms, including ones that are accessible to people with disabilities, on every floor.
Nursing Stations at New Paros Airport
No specific information is available regarding the designated nursing station at the New Paros Airport. Alternatively, you can utilize the restroom with amenities specifically for mothers with young children.
A.T.M.s at New Paros Airport
If you need to withdraw money, ATMs are located on the New Paros Airport's first and ground floors. Alpha Bank, located at Aliki 844 00 in Greece, has an ATM on the property near the airport.
Currency Exchange at New Paros Airport
There are no money exchange stations at the New Paros Airport. The closest exchange facility, however, is Western Union - PayLink, which can be found in Paros, Greece, at 844 00.
Food and Beverages at New Paros Airport
At the New Paros Airport, travelers have access to the bar. While you wait for your flight, you can go there and relax. Call this number at +30 22840-90509 to learn more about its amenities.
Shopping at New Paros Airport
Visitors can shop at a few stores at the New Paros Airport for goods and treats. You might think it needs to be improved in some areas, but you can still choose from the items there to buy gifts for your loved ones or things you'll need for a trip.
Pet Relief at New Paros Airport
If you want to take your pet to Greece with you, you must fulfill some requirements at the airport. A microchip must be installed on all animals entering Greece. Additionally, proof of anti-rabies vaccination that was administered at least 21 days before travel is required for pet travelers. In this regard, passengers with pets must follow all current airline rules. For more information on the specifications for your airline, please visit their website.
Ticketing Services at New Paros Airport
Close to the check-in desks are the counters of several domestic and international airlines, including Delta, United, Southwest, and Elegant. It provides help with making reservations for all flights to and from the New Paros Airport.
Whether at the New Paros Airport or online flight booking options are good places to look for the most recent information.
Was your flight delayed or cancelled?
You may be eligible to receive up to 600 EUR compensation per person in your party..
Claim Now!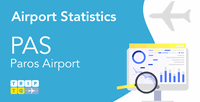 New Paros Airport Shatters Records in Q3 2023, Passenger Traffic Soars 6.21% Year-on-year